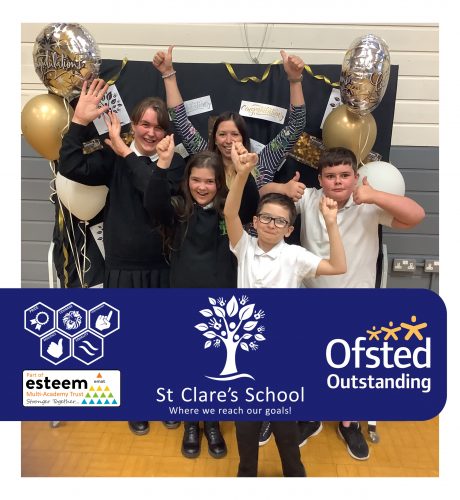 St Clare's School has once again achieved an outstanding rating from the Office for Standards in Education, Children's Services and Skills (Ofsted). This exceptional achievement reaffirms the school's commitment to providing exceptional education and support to its students with special needs.
Ofsted, the UK's independent education watchdog, conducts rigorous inspections to evaluate the quality of education provided by schools and organisations. St Clare's Special School has now consistently received top ratings for its outstanding educational provision, making it a beacon of excellence in the special education sector.
The recent Ofsted inspection, carried out over two days, scrutinised various aspects of the school's provision, including Safeguarding, the Quality of Education, Behaviour and Attitudes and Personal Development. The inspectors were deeply impressed by the school's dedication to fostering an inclusive learning environment and promoting individual growth and development. They are quoted as saying 'Pupils thrive here'.
St Clare's Special School's staff, including teachers, teaching assistants, support staff, and leadership, were commended for their unwavering commitment to ensuring every student achieves their full potential by providing tailored support to meet each student's unique needs. Steven Barnes – Lead Inspector commented within the report that 'Teachers have expert knowledge of both the subjects they teach and of their pupils. Consequently, teachers plan activities that consistently meet the needs of the pupils.
The report highlighted the school's outstanding leadership, led by Headteacher Laura Russell, and her exemplary team, who demonstrated that Leaders are highly ambitious. They are determined for pupils to succeed. The positive relationships fostered between staff, students, and parents were also recognised as a crucial factor in the school's success. 'Parents and carers are full of praise for the school. Many parents report that the staff have real belief in the pupils. One typical parental comment being, 'When nobody else believes in them, the staff here do.'
Additionally, the report emphasised the exceptional wider curriculum offer as well as the progress students make academically. St Clare's Special School's commitment to personalised learning plans and tailored interventions, combined with a nurturing environment, ensures that each student receives the necessary support to thrive.
As St Clare's Special School celebrates another outstanding rating from Ofsted, it continues to serve as an inspiring example of educational excellence and an invaluable resource for students with special needs in Mickleover and beyond. The school's dedication to nurturing individual potential and its unwavering commitment to creating a vibrant and inclusive community are truly deserving of praise and recognition.
To view the full Ofsted report please click here
To read our newspaper article on Derbyshire Live click here
Get Information About Schools
get-information-schools.service.gov.uk
Parent View
Parent View gives parents the chance to tell Ofsted what you think about your child's school. Click here to access parentview.ofsted.gov.uk